For those who love Halloween and love to get festive, but don't really want to get dressed right up in a costume, makeup is the way to go. Maybe it's just because you feel like you're a little too old, or you don't feel like wearing a full costume. This is where makeup comes into play, you can dress your face up without having to dress up in a costume, so you can get creepy while just wearing anything you already have in your wardrobe. This is great for if you're not doing anything special at all but still want to do something fun. There are so many different Halloween looks you can do with makeup to suit what you like, you can go full on creepy or just be simple and cute. Especially if you're crafty and quite good with makeup, you can really do some fun things. And if not, there are so many simple looks that can easily be done, as well as looks that have many variations that can be changed to suit you.
So here is a few makeup looks that I really like, that are somewhat simple or can be simplified, and that don't require a full costume.
The half skeleton.
Blood Doll Face
:
The Smile:
Porcelain China Doll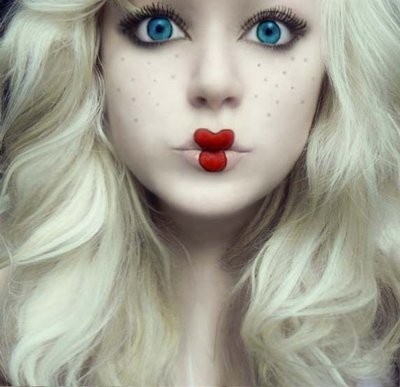 The Black Cat
Images from: Pinterest & Google
And of course, there are many many more, these are just a few that I really like that I think are perfect for Halloween. And none of which requires a costume to complete the look. There are so many you can find lying around on Pinterest and Google, there's bound to be a look you like that suits your needs. If you're super creative you can make one up of your own, or change up a look you like to suit yourself. Like my look on a
Porcelain Witch
where I took inspiration from a porcelain doll and made it my own, which doesn't require much of a costume either.
It's super fun and exciting to find simple looks you can do. Even if nothing is happening on the 31st, you can still get festive and creative.